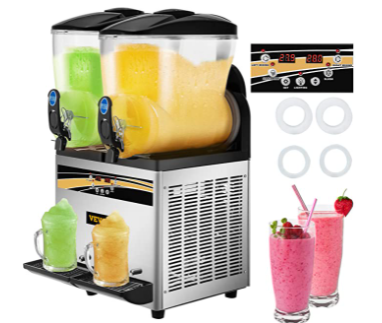 Slush Drink Machine
Actual Size: 21.7 x 19.5 x 33.5
Age Group: All




30L/ 8Gal Slushy Machine: Our commercial slushy machine adopts 2 tanks with 15L / 4 US gallon capacity per tank, which can hold a large number of slushies and drinks at one time. The interior bowl light illuminates your beverages, bringing the machine an attractive appearance and providing convenience for your night operation. Besides, the 1000W rated power allows you to prepare slushie within a very short time.
Premium Quality: Our slushy maker is constructed with stainless steel body, food-grade PC tanks and two-layers ABS lids, ensuring durability for long-time use and allows easier cleaning and less complicated maintenance. The broadened mixing stirrers, with 360-degree rotation, reduce sediment and stir drinks.
Precise Control Area: This slush frozen drink machine is equipped with an easy-operating panel. Each bowl can operate independently and can be switched on/off or between cool drink and slush modes. Due to the preservation function, you can always enjoy the fresh slushies by setting the temperature from 25°F to 30°F.
Considerate Details: With the antifreeze cylinder system, the machine can automatically start and cease to solve the freezing problem of the cylinder. The detachable trip trays are well-designed for placing cups and maintaining your place neat and clean. The air vents promote heat dissipation. The rebound handles are effortless to operate. The rubber feet are nonslip for the stability of this machine.
Wide Applications: Our slushy machine is ideal for both home & commercial use. You can use it to make various kinds of cold drinks, such as fruit juice, tea, Slurpee, frozen cocktails, iced coffee, etc.
Need Assitance No Worries Call Now! Staff is Always Available
(303) 319-4901