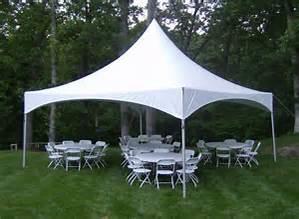 Canopy Marquee Tent 20x20' White
Actual Size: 20x20'
Setup Area: 25x25'
Age Group: All




This Marquee Canopy is awesome for any event, very popular with weddings, memorial services, company events, baby showers, you name it. The tent gives you a very elegant design, not having a center pole (these are not frame tents), these marquee tents are completely open and unobstructed under the tent. It has no center poles which allows for optimum views and exceptional heights of 9' on all openings. In the tent world there is no other. Just with any other shade setting, you can expect the tent to be about 10-15 degrees cooler than without it. You must allow at least 25x25' for setup on grass or dirt using stakes, and the same when using weights on concrete.
Tents can be combined to make a square (4 tents), an L (3 or more), a row, etc.

This is not a self install tent. Setup and tear down is included in the price of this tent (only if set up is over grass or dirt.) If you need set up on concrete, it requires 1200lb of weight which is an additional $180.00 per tent, please select "concrete" on surface set up type in checkout ($180 per tent, multiple concrete options available on checkout set up surface screen).

Sidewalls are optional and we have both solid walls and windowed walls; these are rented separately - feel free to choose 4, 3, 2, 1, or none - whatever suits your needs. On windy days we do recommend only one or two walls to avoid creating a balloon effect.

Fall/Winter set ups - Patio/Tent heaters are also available - please add those under > rentals > patio heaters.

The image above is an actual depiction of the tent. More photos and set ups on our google page!

PLEASE NO COOKING OR GRILLING UNDER TENT!
Need Assistance No Worries Call Now! Staff is Always Available
(303)319-4901 or Office@PartyLifeRents.com or use our live chat feature!
10